Rush University Medical Center's East Tower is nearing completion and preparing for patient occupancy in January.
As art consultant for the Rush Transformation, our first task was to create a first impression for the new front door and gateway to the East Patient Tower. This 31 panel installation needed to act as art, graphics and signage, while visually connecting to the 1400 pieces of framed art we selected and installed throughout t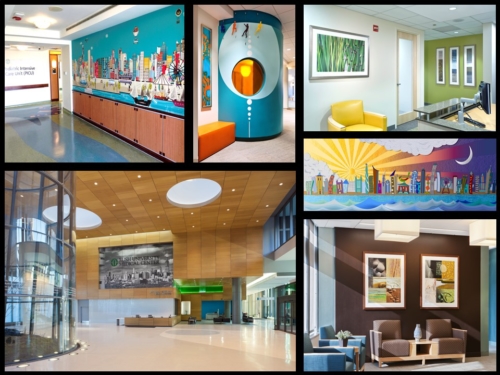 he 14 floor structure.
In order to achieve the resolution necessary to print the 30′ x 20′ graphic, our photographer captured 63 separate shots from the vantage point of the hospital, then digitally combined them to create the impressive cityscape featured.
Complementing this installation is a series of acrylic panels, matched to Rush's branded green, interspersed with etched and hand carved glass panels of prairie grass, which come to life when edge-lit from below.
Urban and organic imagery combine harmoniously, both reinforcing Rush's brand image and creating a healing arts program which celebrates the rich diversity and culture of the neighborhoods which the hospital services.
Invest two minutes to watch this time-lapsed footage of our team's 30 hour installation in the Brennan Pavilion.
Click here to return to the 2011 Year's End Corporate Newsletter.