WILMETTE, IL  —  The stars of the most recent gallery opening at H. Marion Framing Studio were student artists from Avoca School District 37's Marie Murphy Junior High School. Gallery owner Jan Marion, an alum of the district, hosted the event in an effort to give back to the community.
"Fostering art appre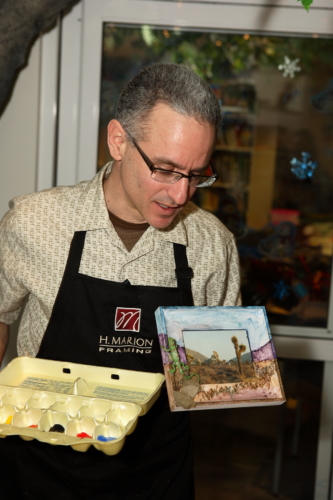 ciation among schoolchildren is vital," Marion, who supports local artists of all ages, says. "There is a strong link between kids who make art and their level of focus and success later in life. It's also a great way to give back to the community."
Marion's unique relationship with commercial consulting clients has resulted in other charitable initiatives, including a partnership with Ronald McDonald Children's Hospital of Loyola Medical Center. Designers from H. Marion Framing helped patients forget about their illnesses and focus on having fun and being a kid. Marion donated all the necessary supplies for the kids of Loyola's RMCH ward to create personalized, hand-painted picture frames. The activity was a welcome release for patients and family members from the mundane routines associated with extended hospitalization. Patients too sick to leave their rooms participated in bedside activities.
The project hit close to home for Marion, who spent much of his youth visiting his father in the hospital during his years of tratement for a long and ultimately fatal illness.
"Seemingly endless hours spent in unpleasant hospital environments had a profound effect on me," Marion says.
The gallery owner has since worked tirelessly to institute art-therapy projects for hospitals throughout the Midwest, especially in the pediatric units. Marion strives to create a better patient experience by implementing imagery that reduces stress and promotes healing.