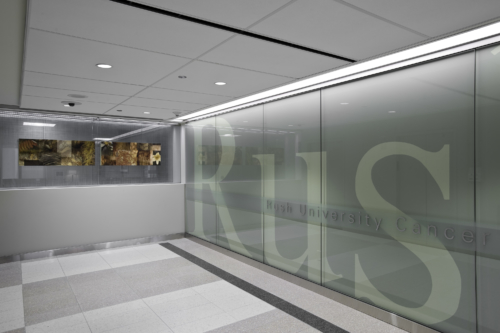 H. Marion Art Consulting Services of Glenview, Northbrook and Wilmette, an art consultancy specializing in art installations for health care facilities, has just been awarded a major art project for Rush University Medical Center's new hospital building, the East Tower, set for occupancy in early 2012. The project includes art consulting, procurement, fabrication, delivery and installation of framed artwork throughout the prestigious medical center's new 841,00 sq foot, 14-story health care facility, currently under construction at Ashland Avenue and the Eisenhower Expressway in Chicago. The complete project will involve an anticipated 1,400 pieces of framed, healing artwork, that will adorn the walls of the building.
The Rush University Medical Center Art Committee, comprised of Rush executives and board members, was familiar with H. Marion Art Consultants' experience in the health care arena and invited them to bid on the project. The committee provided several key principles to guide the consulting team to achieve the overall vision for the organization.
The committee stated they were seeking to optimize the patient and family experience through artistic expression – and that the artwork presented must promote a healing and welcoming environment. They also wanted to embrace the community by sponsoring local artists and include artwork that highlights the neighborhoods of Chicago by using elements that capture the city's rich diversity.
In addition, the committee sought to champion sustainability by using environmentally friendly materials whenever possible, and remembering to always conscientiously consider Rush's core values in the overall decision-making process. Senior health care designer for the project, licensed ASID designer Pam Rosenberg proclaims, "We are extremely grateful to be awarded such an awe-inspiring project. Healing through art is a beautiful process and we are happy to be involved at such an intimate level."
Still in the beginning stages of planning for the project, Jan Marion, president of H. Marion, knows the final outcome of this project will positively impact patients for many, many years. A secret to the success of his business is that Jan has always understood that art also has an emotional component. "Art has an ability to transform an interior space and create a positive encounter," he explains. "The understanding of this personal connection, combined with the potential for it to be life changing, is the core of our philosophy." This notion, along with their product stewardship and "green" focus, is the vision that inspired the Rush University Medical Center Art Committee to decide that H. Marion is the ideal candidate for the project.
No stranger to medical center installations, H. Marion has completed art projects for institutions such as Midwest Orthopaedics at Rush, Children's Memorial Hospital, Resurrection Medical Center, Gottlieb Memorial Hospital, Loyola University Medical Center, West Suburban Medical Center, and many more. H. Marion is also an affiliate member of The Center for Health Design, a research-based organization that provides guidelines which facilitate the design of patient-centered healing environments.
Rush's new hospital building, the East Tower, is the centerpiece of a $1 billion, ten-year campus redevelopment plan called the Rush Transformation, which also includes a new five-story Orthopedic Building, a new parking garage and central power plant, renovations of selected existing buildings and demolition of obsolete buildings.
The new hospital building is being designed and built to conserve energy and water, reduce waste and use sustainable building materials. Rush is seeking Leadership in Energy and Environmental Design (LEED) gold certification from the U.S. Green Building Council. It will be the first full-service, "green" hospital in Chicago.