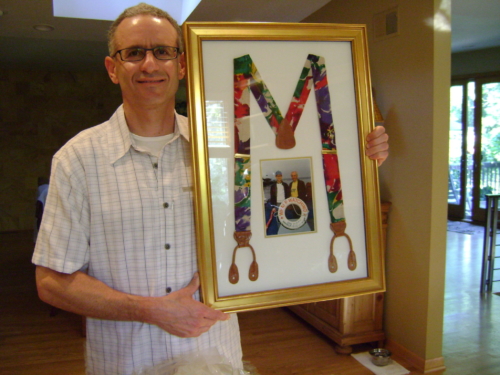 Jan Marion of H. Marion Framing recently celebrated a milestone birthday and received a truly surprising and heartfelt gift; one designed right in his own frame shop and assembled at his production facility. Unbeknownst to Jan, his mother Florence had assembled for him a memory box, composed of a special photograph and a pair of rather eccentric suspenders to commemorate the occasion. The suspenders, worn by Jan's late father, Hal Marion, are displayed in an "M" configuration and depict a pseudo-monogram, which encompasses the photograph of Jan and Hal on a whale-watching excursion. The overall composition is very effective, both in terms of meaning and its ability to keep the viewer's eye moving around the piece. It creates a simple, yet dynamic presentation.
"I cannot help thinking about the old Hair Club for Men commercial, where the spokesman says that he is 'not only the president, but also a client.' That's how I felt when my family presented me with a framed shadow box on my 50th birthday." said Jan.
Jan is often the one creating these specialized gifts, either for the person who has everything, or in most cases, to preserve a sweet memory. These compositions may feature military medals, sentimental memories of loved ones, or simply a cool blast from our own past. "I am often told that tears are drawn when the presents are unwrapped. Although I did not cry when opening my own personalized shadow box, I was admittedly choked up in thinking about all that my late father had given me, including his namesake on our successful business today. I will display this proudly, and now know first-hand what it feels like to be on the other side of the design counter."
Thanks Mom!