H. Marion Art Consulting Services proudly partnered with Rush University Medical Center to develop and install an art program in the Rush University Cancer Center, which opened earlier this year. The new outpatient cancer center is a vital part of the 10-year Rush Transformation, which includes building renovations, as well as construction and new technology. The art and interior design in the new cancer center created a soothing environment that is a physical manifestation of the tenets of the Transformation.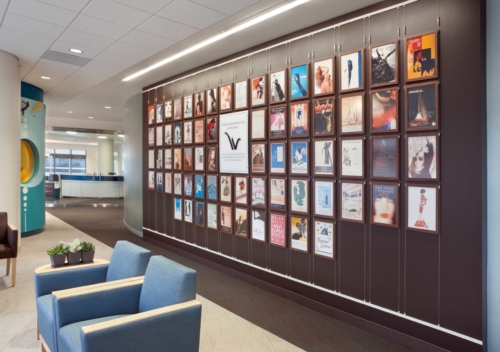 The environmentally sustainable design of the outpatient center embodies the Rush Transformation's guiding principles, including the directive to "design a comfortable environment to support Rush core values," as well as the goal to "embrace the community through design." The design of the Cancer Center utilizes the inherent properties of healing art to help improve patients' emotional states. Beyond merely promoting a sense of well being, art has been proven to actively affect chances for, and speed of, a patient's recovery.
According to Marie Duval, Rush's Hematology and Oncology Operations Manager, Rush placed a heavy emphasis on aesthetics because it presents a ready and incredibly effective opportunity to make the patient experience better. "What we present to the public is very important," she explains, "and H. Marion spent a good deal of time here, making sure we didn't get a sterilized effect. The Center is beautiful."
H. Marion Art Consulting Services of Glenview, and Wilmette, IL, is an art consultancy specializing in art installations for health care facilities, and served as the turnkey art consultants for the new outpatient center. The project's stated goal was to promote a healing and welcoming environment within the Rush University Cancer Center. As art consultants for the Rush Transformation, H. Marion was responsible for establishing the art vision of Rush's governing board, as well as reinforcing the Rush brand's image. H. Marion's Senior Health Care Designer, licensed ASID designer Pam Rosenberg, details the company's use of color in the chosen design, "Natural elements – an effect of bringing nature inside, is soothing, calming." Even the furniture matches the wood-tones in the art. "I think the healing art fosters lower stress, and increases patient satisfaction," she adds.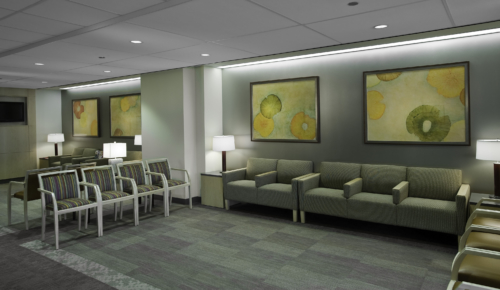 The new outpatient center, located on the 10th floor of the Rush Professional Building, 1725 W. Harrison St., Chicago, sets pioneering standards of patient-centered care by bringing the majority of the hospital system's cancer care providers and services together, in one location. The previous center was one-third of the size of the new space. The layout of the Cancer Center was designed to allow for patient privacy, and yet engender a feeling of movement through the system of care. Patients visit different waiting and treatment rooms as they undergo each subsequent aspect of care along their journey battling cancer. H. Marion chose the color and art design for the interior rooms, as well as the hallways. "They took into consideration which pieces would make sense in a transitional space, such as a hallway, and which pieces made more sense if patients had to stare at them for long periods of time," Marie reveals. "The colors are soothing where they need to be. We get a lot of compliments. Patients tell us which paintings are their favorites, and they all agree that the new look is far better than the sterile design we had in place before."
In addition to the integrated art and sustainable design, the Cancer Center features a larger chemotherapy area with additional individual treatment rooms, as well as a new triage area. With nearly twice as many exam rooms as Rush's previous center and more procedure rooms, 15 consultation rooms, an expanded resource library, state-of-the art educational conference room, and dedicated spaces for palliative care and pain management, each with its own look and feel, the Transformation was a large and involved process that cost $13.3 million to construct.
Art was also selected to work within the Cancer Center's integrated medical treatment rooms. "This new unit represents an innovative approach to how cancer treatments will be delivered, through the use of integrated medical treatments such as yoga and massage therapy, and nutritional and psycho-social counseling, the art plays a crucial role," details Jan Marion, president of H. Marion.
Rush utilized patient focus groups to determine which amenities would enhance patient experience. H. Marion was able to tailor the Cancer Center's interior design by room utility, accommodating isolated infusion rooms, negative pressure rooms, conference rooms, and even the front desk. It all matched the letter of another one of Rush's Guiding Principles, "organize services around delivery of care." Jan Marion says that many of the art images were chosen because they "collectively respond to Rush's branded environment, highlighting a rich, colorful palette, which showcases Chicago's rich diversity, neighborhood culture, and nature."
H. Marion is an affiliate member of The Center for Health Design, a research-based organization that provides guidelines that facilitate the design of patient-centered healing environments. For the complete list of health care clients or for additional information on H. Marion Art Consulting Services, visit H Marion Art Consulting Client List
About Rush University Medical Center
Rush is a not-for-profit academic medical center comprising Rush University Medical Center, Rush University, Rush Oak Park Hospital and Rush Health.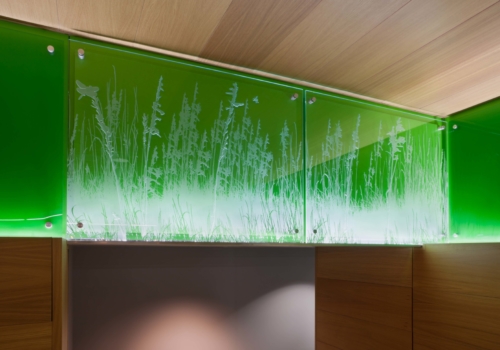 Rush is currently constructing a 14-floor, 806,000-square-foot hospital building near the corner of Ashland Avenue and the Eisenhower Expressway. The new hospital, scheduled to open in 2012, is the centerpiece of a $1 billion, ten-year campus redevelopment plan called the Rush Transformation, which also includes completion of a new orthopedics building, a new parking garage and central power plant, renovations of selected existing buildings and demolition of obsolete buildings. In January, Rush opened the new Rush University Cancer Center in completely renovated facilities in its Professional Buildings. The new hospital is designed and built to conserve energy and water, reduce waste and use sustainable building materials. Rush is seeking Leadership in Energy and Environmental Design (LEED) gold certification from the U.S. Green Building Council.  It will be the first full-service, "green" hospital in Chicago.
Rush's mission is to provide the best possible care for its patients. Educating tomorrow's health care professional, researching new and more advanced treatment options, transforming its facilities and investing in new technologies—all are undertaken with the drive to improve patient care now, and for the future.