Q & A with Kati Morrell, project designer for UTMB's History Panels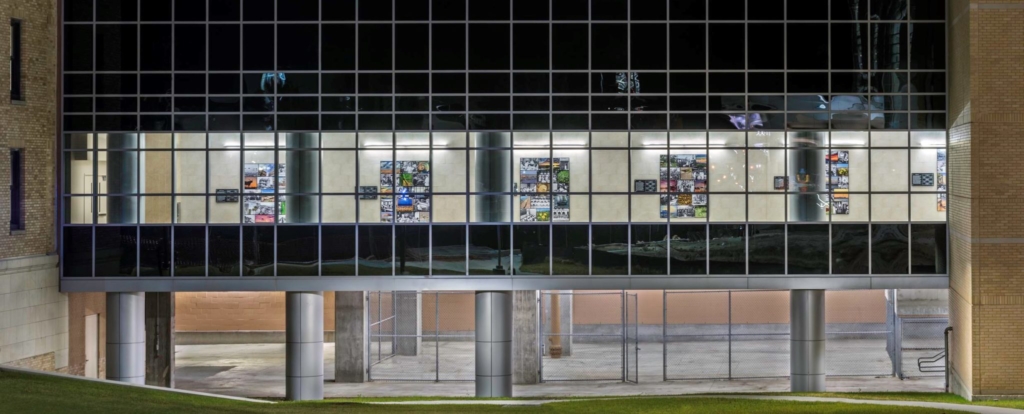 H. Marion's design team was tasked with creating a display that documents and celebrates UTMB's legacy in the medical field and their 130-year commitment to the island's residents. The result is a 7-panel history display wall featuring a carefully curated collection of historic imagery juxtaposed with a contemporary artistic interpretation of life on the island from many local photographers.
Q: What inspired the history panels created for UTMB's Connector Services Wing?
A: While in the initial design phases of this project we recognized that this campus has a 125+ year history of serving the local and medical communities. Some notable accomplishments: they have been credited for curing the bubonic plague, continue their involvement with NASA, are a frontrunner in Zika, Ebola, and infectious disease care, and have survived multiple large hurricanes…and they are STILL a leader in healthcare.
We took this proud heritage and began the design process carefully curating then proposing seven different focuses for the walls: Research, Architecture, Medical School, Nursing, Patient Care, Health Professions, and Texas. The final design bridges the gap between the founding of UTMB and the present day with an engaging, thoughtful, history display.
Q: In your opinion, what role do these history panels play in the patient and visitor experience at UTMB?
A: I imagine that many of the patients and visitors will have different experiences; some will be from out of town, some local…some will be rushing across the campus to make an appointment, and others will be taking their time going to the cafeteria.  I like to think that no matter who walks past these historical displays and how much time they take to look at them or read the accompanying description plaques, that they will feel the connection between those photos and where they are standing.
Q: Other than aesthetically, how does a custom assembly like this add value to the project?
A: Aesthetic value and other interpretations of value are not mutually exclusive. While the photographic compositions are beautiful, we hope that the narrative this feature branding display creates offers an engaging, positive distraction for patients and visitors alike. The legacy of this health system not only greatly impacts the community, but continues to positively impact the medical field itself-this visual display makes the narrative of that legacy accessible to everyone.
The history wall also functions as a wayfinding landmark on UTMB's expansive campus; simplifying navigation works towards the overall improvement of the patient experience as well.
Q: As a designer, what was your favorite part of the creative process?
A: I loved working in the archives and doing research about the significance of each photo.  At the Moody Medical Library we worked with the Manager of Library Services, Sarita Oertling, in the Truman G. Blocker History of Medicine Collections.  I could pull one photo out of thousands and she knew who the people were and the occasion of the photo at a quick glance. Sarita had the entire collection memorized!  I learned so much about Galveston and UTMB that I walked away when the project completed thinking "I could be a tour guide."